German music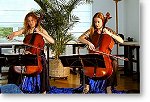 "Hausmusik" at Sprachinstitut TREFFPUNKT
Music from Germany, German music and music in German langauge are by no means identical concepts. In the area of pop music just in the last few years national artists with German lyrics are dominating more and more. And abroad not only German-speaking artists and composers in the field of classical music are world famous.
Our latest news always on Facebook.com/sprachinstitut.treffpunkt.online
---
Before we get into individual singers, groups and resources, here are a few tips for anybody who is interested in the history of light and popular music in Germany:
Lyrics & notes
There is no question that lyrics, music and music samples in mp3 format are among the items most frequently sought on the internet by those studying German. We will be glad to list more links on this site. If you know any other sources for songs in the German language, please contact us.
Music news
Pop music
"Pop in German is in". It appears this is the maxim of the German musical scene at the moment. So many tracks are now in German – more than ever before. What began with Hip-Hop in German a little more than two years ago has now spread to other genres. People are talking about a "new German wave" – the first German wave in the 1980s made artists and groups like Nena ("99 Luftballons"), Ideal, Extrabreit and Kraftwerk ("Wir fahr'n fahr'n fahr'n auf der Autobahn ") famous.
In order to give a brief overview, we have separated the current German pop scene into two categories:
Recently successful artists and groups in Germany :
German and Austrian artists and groups who have already met with long-term success:
Hints for searches for more artists: Robert Shea has also made a great effort to put together German music internet sites particularly for students of German. Other good sources are the German rock Encyclopedia www.germanrock.de, and pages from the German music scene at www.musikmarkt.de. www.vistawide.com/german offers information in English about many German singers and bands - information that is otherwise only accessible to German-speakers.
Song writers - artists who belong more to the serious or political pop music scene
These are artists, who place a great deal of importance on song lyrics. Such lyrics frequently concentrate on ideological ideas or serious or political issues.
(Traditional) Folk music
Hits,"Tear jerkers" & love songs
In pop music you will find plenty of singers in this category - just as many as in folk music. Here it is the fans' taste that is the determining factor: A song that is percieved by some to be a soppy, fatuous tear jerker may be for others a serious, realistic reflection of life. Typical artists belonging to this category include Christian Anders, Gitte, Freddy Quinn, Rex Giuldo and currently: Wolfgang Petri.
We recommend that you use Schlager and Schnulze as keyword searches and browse through the various websites. Allow yourself to be surprised by the results.
Classical music
It is widely known that the German speaking countries have produced some of the world's greatest composers.
Through talking to students at TREFFPUNKT language institute, we have discovered that a significant number are learning German as a result of their enthusiasm for German music. Their goal is either to understand the songs in their original language or to be able to sing them themselves with the correct pronounciation. Richard Wagner and Franz Schubert are composers of mentioned in this regard. The following are a few sources:
Portals

Composers
Music festivals
---
Some recommendations for currently successful German pop groups and musicians in Germany:

Did you find the music pages you were looking for? You can find further sources of typical German music and artists when searching with the keywords:
"Deutsche Schlager", "Hitparade", "Neue Deutsche Welle", "Schlager 30iger Jahre", "Deutsche Rockmusik", "Deutsche Popmusik", "Deutsche Grammophon", "Alte Musik", "Protestlieder" ...
It might be best to use a search engine crawling without tracking . Such as DuckDuckGo-Suche.
---
If you have any comments or suggestions, please write to: info@learn-german-online.net
Important: We are concerned about the current internet links. We would be very grateful if you could report dead links to us. Send an e-mail to info@learn-german-online.net.