Educational Resources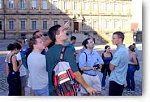 experience German culture in Bamberg
The education sector includes not only the school and university education but also all types of corporate and personal training and coaching. Out of the wide range of educational sectors on ths page we collected resources for all who have to do with foreign languages or want to study in Germany. .
Our latest news always on Facebook.com/sprachinstitut.treffpunkt.online
---
Before you start, we have
30 Expert Tips for Learning Any Language Fast and Easily
for you.
Foreign language schools
Colleges around the world
University study abroad programms
Universities wordwide
University Directory: A University directory of all major U.S. universities and colleges. It includes information about history, academics, unique programs, student life, student statistics, admissions, athletics, and the local community for each school. www.stateuniversity.com
Copywriters and Authors
Wirschreiben.ch: Use WirSchreiben to secure suitable authors for Switzerland and Germany. WirSchreiben has access to a talent pool of around 400 authors. These are highly qualified copywriters who have many years of experience in creating academic texts.
Translation, transcription and custom writing services
Language training services and directories
Learning a language by internship and volunteering commitment

Get-Life-Experience offers volunteer services and work abroad for people of all ages
AIESEC is a global, collaborative youth-driven network which believes in practical learning and ethical everyday leadership. They activate leadership qualities in youth through learning from practical experiences in challenging environments. They also offer internship and volunteering programms.

Other training services

Extra tip: For all working and living in a foreign country, several expatriate communities have established. Here are the contacts: